Pre-Cleaning Inspection

We make every effort to determine your rugs origin. We perform a close inspection of the rug's foundation, knots, fringe, kilim, colors, patterns, pile fiber, pile density. Each rug is tested for colorfast prior to determining a cleaning process. Overall condition of the rug, its origin, and construction provides us with the knowledge of which cleaning process to proceed with.
Unlike clothing we don't have the luxury of referencing a tag on the back for cleaning instructions.
Dusting your Rug
It's a "matter of fact", however with wool rugs it's a "fact of particulate matter". Wool is designed by nature to hide insoluble substances such as hair, dust, dirt, sand, fiber and many more substances we call "particulate matter". More than 75% of all soil in a rug is particulate matter and it gets buried deep into millions of tiny pockets called cuticles. If not removed, particulate matter will reduce the useful life of your rug. Harnessing over 25,000 harmonic vibrations a minute, our mechanical rug duster ( The RugBadger) removes harmful particulate matter lodged deep in your rugs fibers.
Rug Washing
Submersion cleaning. We actually immerse the rug completely in a mild solution designed specifically for oriental rugs. This is the most thorough washing available for fine rugs. Not all rugs can be cleaned using this method.
Rotary Shampoo in combination with Water Extraction. This process is used on most rugs that don't meet the guidelines for submersion cleaning.

Dry Foam Shampoo. We use Dry Foam on many specialty rugs or rugs with concerns of buckling, dimensional stability, or possible dye bleed.

Mist and Brush. This can be used on rugs with bleeding concerns and as a post cleaning technique.

Absorbent Pad Cleaning. We

may incorporate this technique as post cleaning for certain rugs.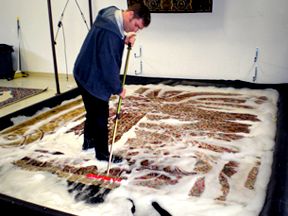 Rinsing

Rinsing your rug until the water runs clear leaves no sticky residue behind. In-home rug cleaning leaves behind chemical residue that can lead to fading, discoloration, quick re-soiling, and possible dye bleed. Without getting too technical, it's very important to complete the process by leaving your rug in the state (Ph 4-5) in which the dyes were set.
Have you ever left shampoo residue in your hair after showering? Leaving residue in a fine rug for an extended period will damage it.
Each rug is groomed prior to being dried
All rugs have a "nap" or pile direction. Proper grooming gives your rug the finishing touch it deserves.
Have you ever allowed your hair to dry straight out of the shower without brushing or combing? It may be clean but is sure doesn't look good.

Rugs with fringe: Special attention is given to all rugs with fringe preceding the drying process.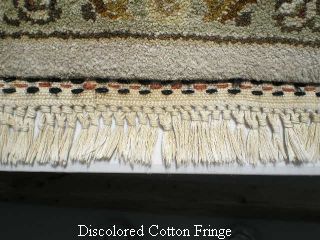 Drying
Temperature, humidity, and airflow
are critical factors when drying wool rugs. Our Drying Tower allows warm dry air to encircle the entire rug, expediting the process. Some rugs need to be dried flat. We utilize increased air flow in combination with heat and low humidity to accelerate the procedure.
If you've ever left your laundry in the washer for a couple days you understand the importance of speeding up the drying process.

Post cleaning inspection and touch-up
The rug washing process is complete once we have determined that all spots and stains that can be removed have been addressed through close examination.
Rugs with fringe: Special attention is given to all rugs with fringe during the post cleaning inspection.